Body serum 200ml bottle in practical dispenser bottle with lid.
Regular price
Sale price
€0,00
Unit price
per
Sale
Sold out
● Lieferbar - In 2-3 Tagen bei dir
ingredients

Here you can find our INCIS list of all ingredients.

Adaptogenic active ingredients help the skin to better adapt to external and internal stress caused by overwork at work or air pollution and to guide the skin into a so-called homeostasis, a natural state of balance.

CUhealthy stands for the development of cosmetic products for the body that work specifically with the special ability of adaptogens on the skin.

Here you will find detailed information about the ingredients of CUhealthy products:

Ashwagandha (Withania somnifera extract)

Ashwagandha literally means "giving strength to a horse". It is also an adaptogen from classical Ayurveda, traditionally used as an aphrodisiac and as a natural tonic. The complex we use is combined with amino acid rich coconut water. It soothes by stimulating stress-fighting functions and normalizes damaged and tired skin.

Guggul (Commiphora Mukul CO2 extract)

Guggul is rich in phytosterols and has such a high antioxidant and thus cell-protecting effect that it is also known as the plant-based coenzyme Q10. It is recommended for tired and stressed skin conditions. It has an anti-inflammatory effect and has rejuvenating, strengthening properties.

Rhodiola Rosea

In folk medicine, Rhodiola rosea has been used to increase physical endurance, productivity, longevity, resistance to altitude sickness, and immunity to common ailments. The plant has been officially approved as a medicinal product since 1969 and is listed in the Russian Pharmacopoeia as an adaptogen, nerve tonic and antidepressant. As a cosmetically active phyto-active ingredient, it produces relaxation, anti-stress and wellness effects on the skin.
 
Cherimoya Fruit (Annona Cherimoya)

This cosmetic ingredient is derived from the shells of the South American Annona cherimoya, known as cherimoya fruit, and works like an adaptogen in two ways: It promotes a stable homeostatic balance, which is the key to healthy skin - and it's a natural one active ingredient with the most important functions for the skin: balance, health and well-being.

Bambusextract (Bambusa vulgaris)

The symbolic power of bamboo in Chinese tradition is above all: the evergreen leaves stand for constant and more unchanging things. Bamboo moves flexibly and freely in the wind - so it adapts to the ever-changing world without resistance. Bamboo is symbolic of strength, flexibility, toughness and endurance. Bamboo extract has a tonic, strong antioxidant and regenerative effect on the skin.

Tamanuol (Tamanol)

Tamanu oil is a vegetable oil from the tamanu fruit. The tree is also called the sacred tree of the Polynesians. Tamanol is ideal for moisturizing and revitalizing dry skin. It is rich in polyunsaturated fatty acids (omega-6 and omega-3), in particular calophyllic acid, which is found exclusively in Tamanu and is responsible for the oil's regenerating properties, and Iactone, known for its antibiotic properties.

argan oil
is cold-pressed oil from the seeds of the argan tree (Argania Spinosa). Area of origin is southwestern Morocco. Argan has been cultivated there for oil production for centuries. The golden-yellow oil is characterized by a balanced combination of oleic, palmitic and linoleic acid and is ideal for the care of dry and demanding skin.

algae oil
is obtained from the brown algae Laminaria hyperborea. It has moisturizing, firming and skin-protecting properties. This algae is also known as "bladder wrack" or brown algae. Through a polysaccharide-amino acid complex, this alga promotes the suppleness and smoothness of the skin, has a slightly firming effect and the complexion is improved overall. Bladderwrack extracts improve the elasticity of the skin, have a soothing and nourishing effect.
INCIS list of ingredients
View full details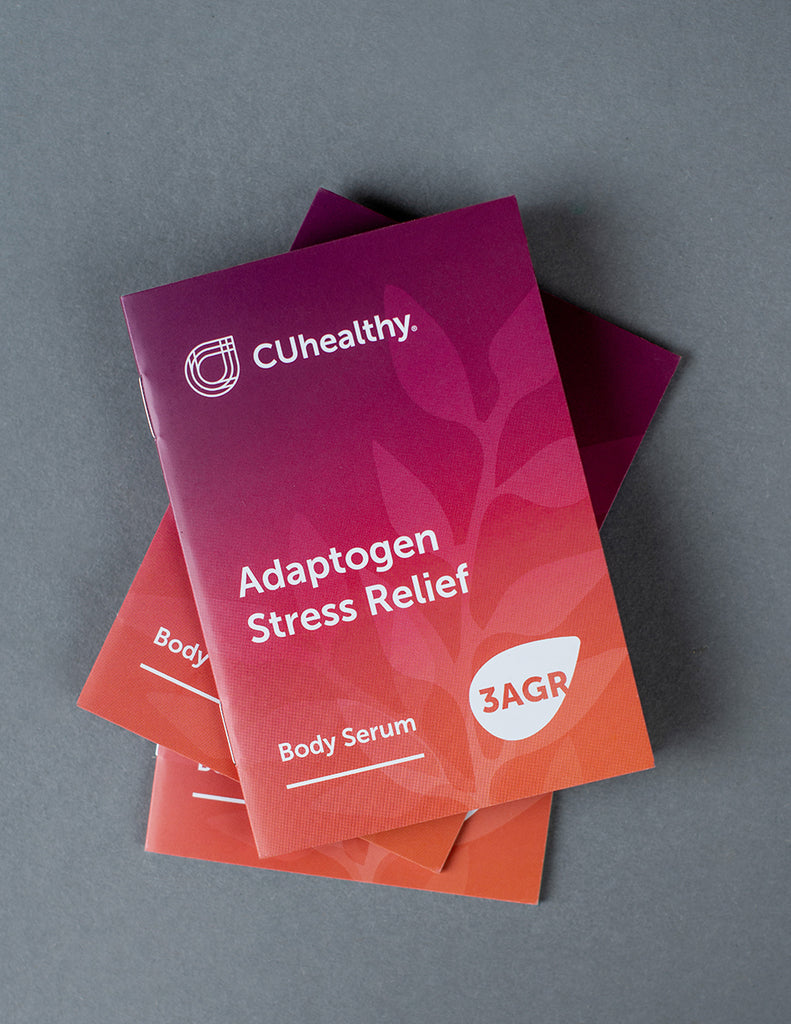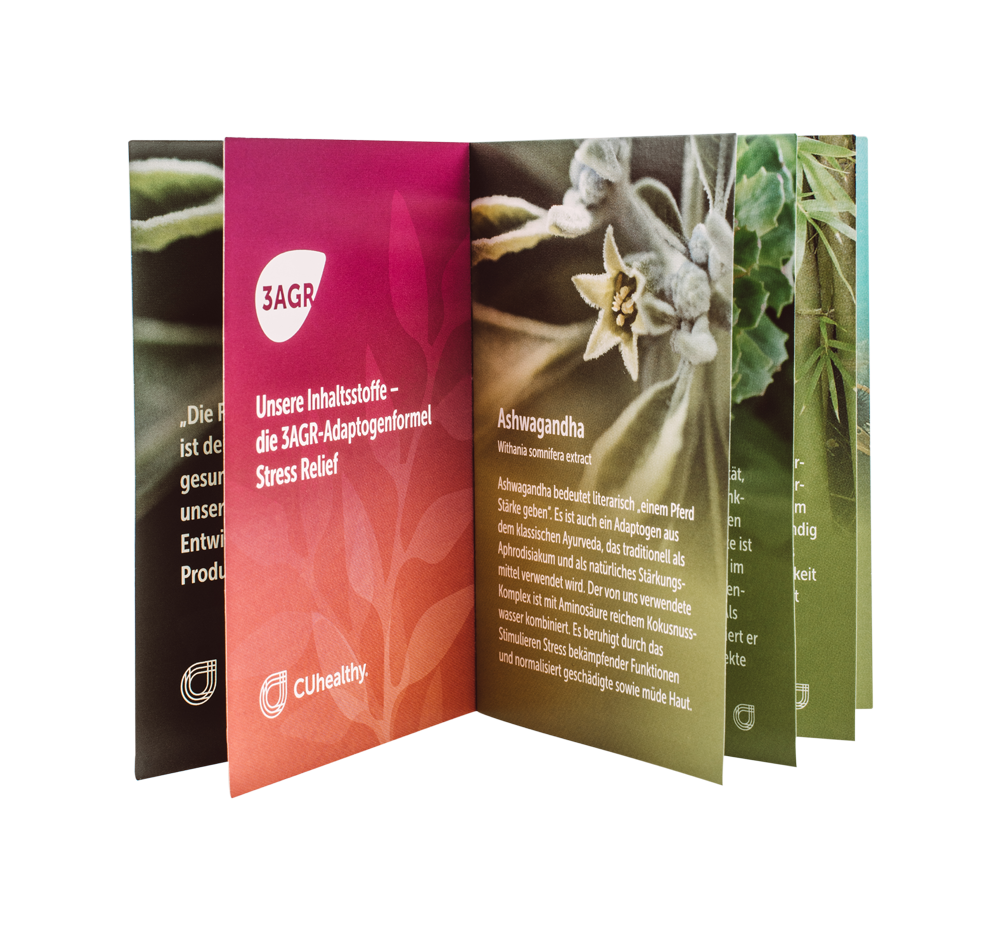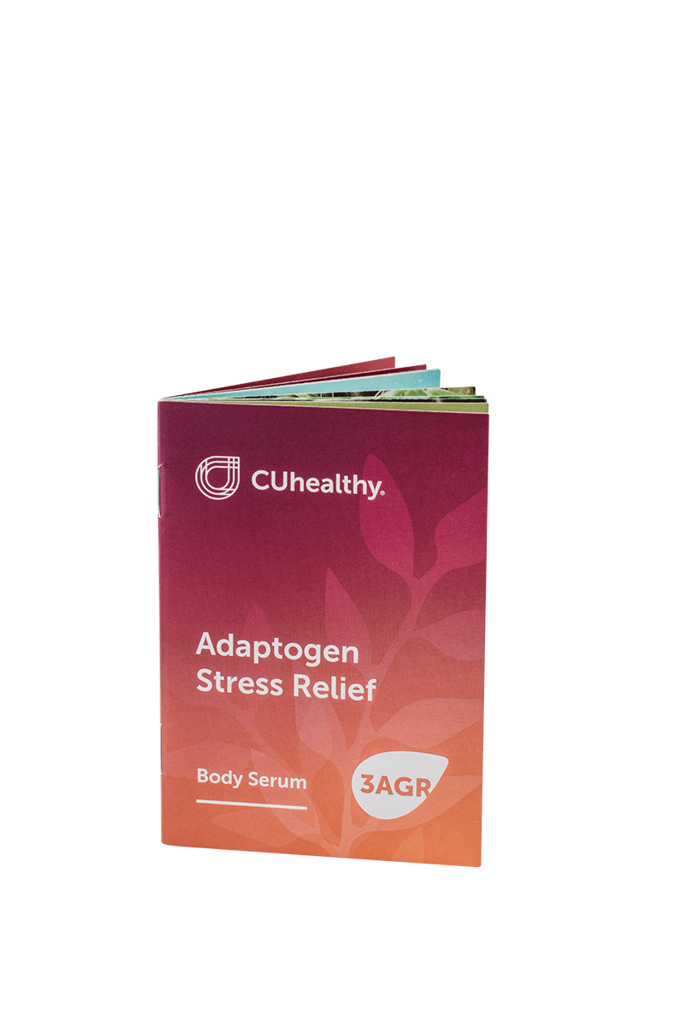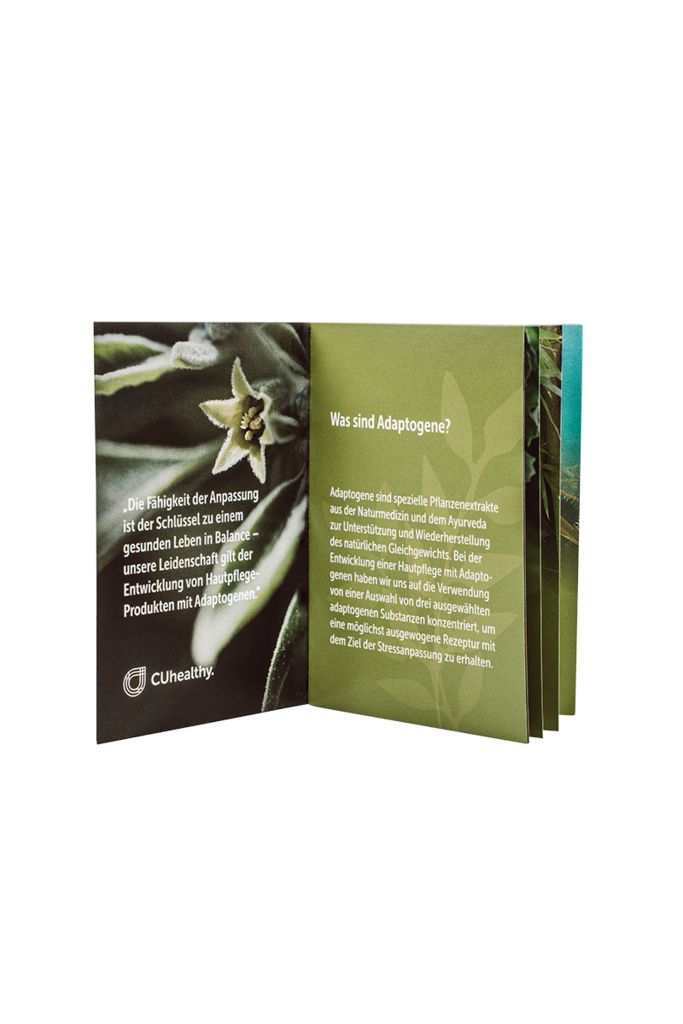 cut
INGREDIENTS:
Aqua (Water), Glycerin, Parfum, Annona Cherimola Fruit Extract, Calophyllum Inophyllum Seed Oil, Argania Spinosa Kernel Oil, Caprylic/Capric Triglyceride, Butylene Glycol, Dehydroxanthan Gum, Cocos Nucifera (Coconut) Water, Jojoba Esters, Helianthus Annuus (Sunflower) Seed Wax, Acacia Decurrens Flower Wax, Polyglycerin-3, Rosa Damascena Flower Cera, Rosa Centifolia Flower Cera, Fucus Vesiculosus, Cetearyl Alcohol, Bambusa Vulgaris Leaf Extract, Commiphora Mukul (Guggul) Resin Extract, Rhodiola Rosea Root Extract, Caesalpinia Spinosa Gum, Withania Somnifera Root Extract, Tocopherol, Helianthus Annuus Seed Oil, Glyceryl Caprylate, Sodium Dehydroacetate, Phenylpropanol, Sodium Benzoate, Potassium Sorbate, Sodium Citrate, Citric Acid, Linalool, Citronellol, Limone
NO Mikroplastik (microplastics)
NO Silicone (silicons)
NO Polyacrylate (polyacrylates)
NO animal ingredients (pet ingredients)
NO Parabene ( parabens)
Why adaptogens help against stress:
Collapsible content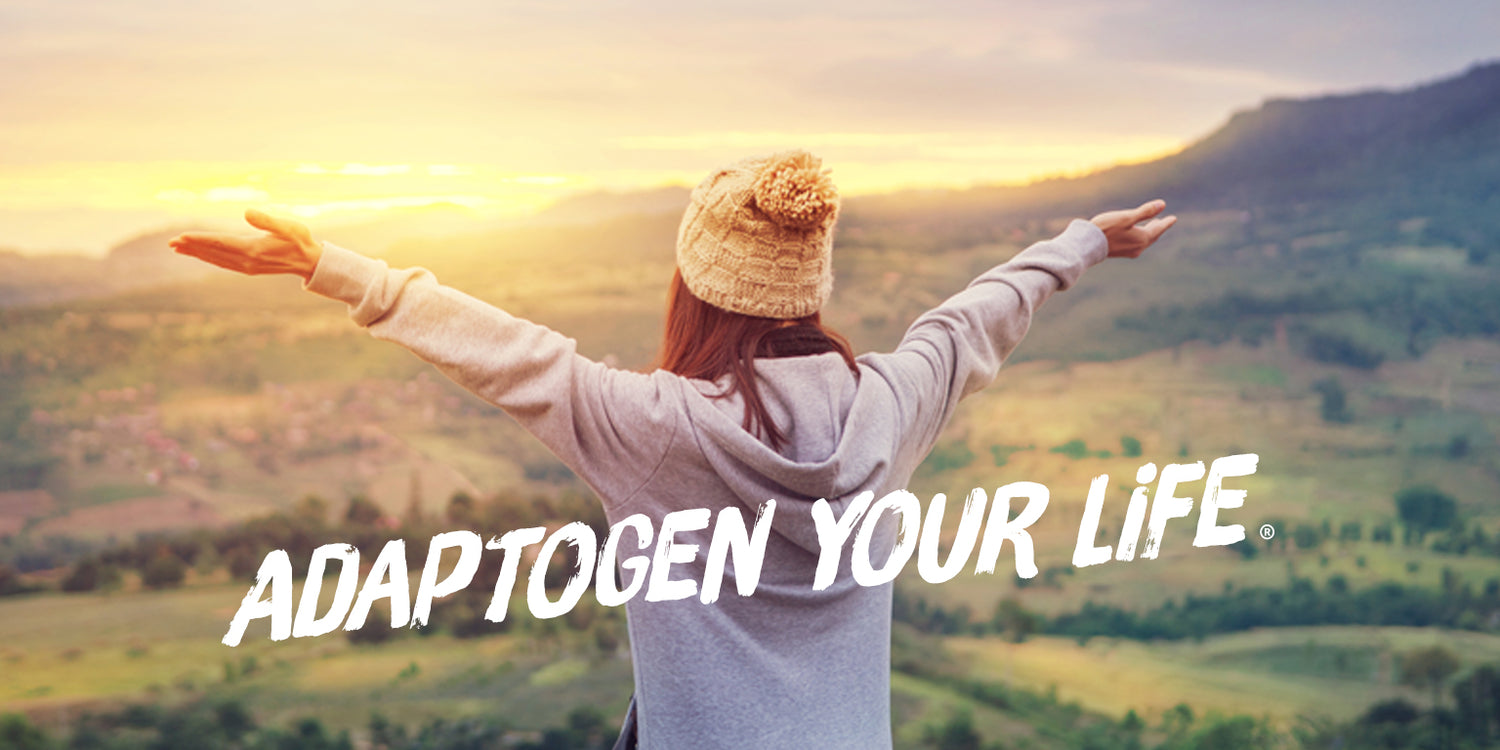 What are adaptogens?

Adaptogens are special plant extracts from natural medicine and Ayurveda to support and restore the natural balance.
What does "3AGR" mean in the Stress Relief formulation?

When developing skin care with adaptogens, we focused on using a selection of a maximum of three selected adaptogenic substances in order to obtain the most balanced, calm formula possible in terms of the main focus of action. In this case with the aim of stress adaptation. From the theory of salvation with adaptogens, we know that their clever interaction can intensify desired effects, but mixtures with more than 3-5 different active ingredients are sometimes viewed critically.
How long can I use the Adaptogen Body Serum?

In principle, there is no time limit for an application and we are not aware of any side effects of the ingredients. However, one should know that adaptogens only show their full effect slowly, even in cosmetic formulations, so that an application period of 6-8 weeks should not be undercut.
Can I also use the body serum on my face?

Yes, that is possible. None of the ingredients are just tolerable for the body. As with any other facial care product, you should stop using it immediately if you experience intolerance such as redness or itching.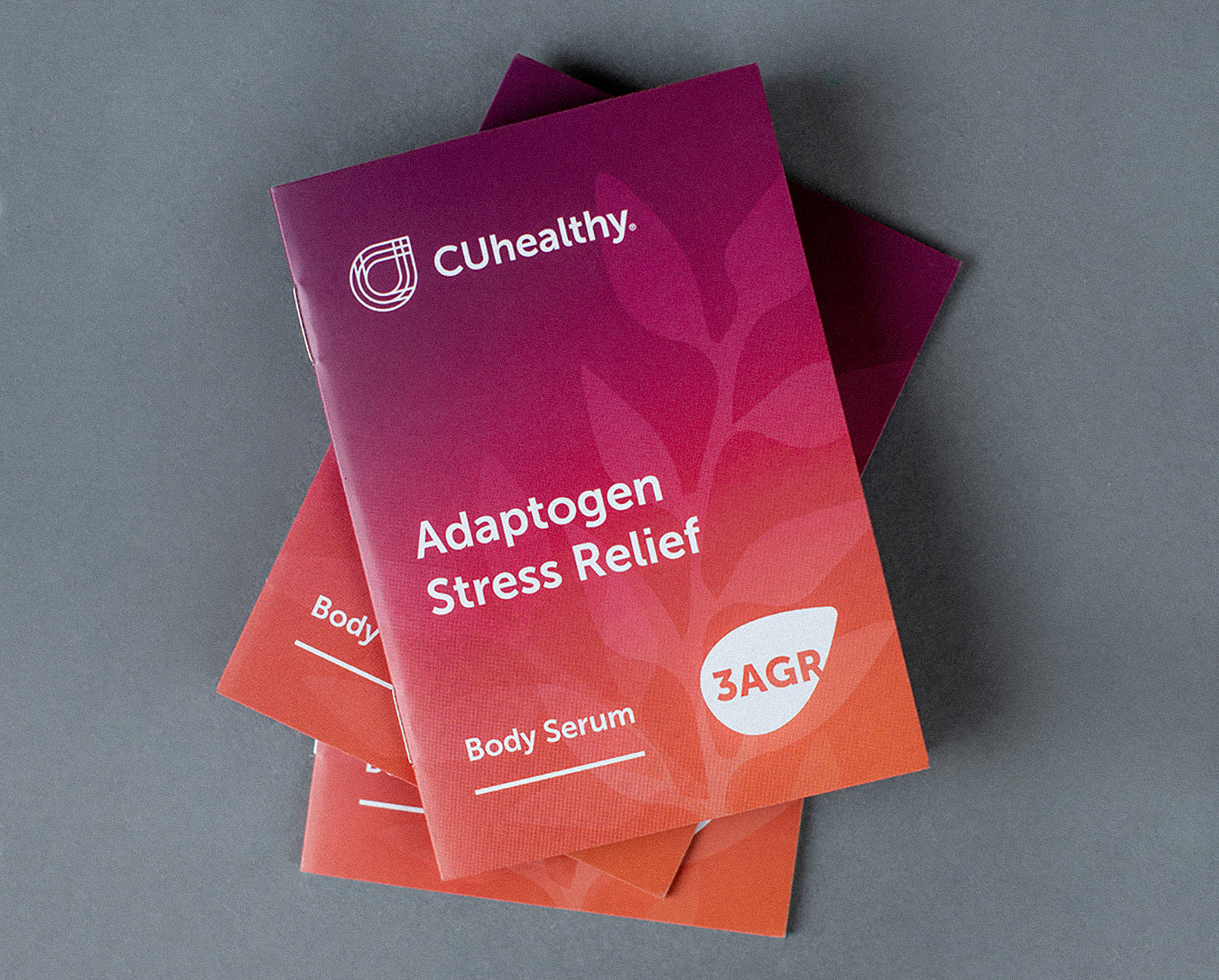 Receive a free Adaptogens Booklet
With every order you will receive a free adaptogen booklet. Learn more about 3AGR Stress Relief Adaptogens and how to use them.
Adaptogens increase the skin's ability to better adapt to stress symptoms and to achieve balance on its own.
Our special 3AGR formulation contains three very active, adaptogenic substances for your skin:
Guggul

Guggul is recommended for tired and stressed skin conditions. It has an anti-inflammatory effect and has rejuvenating, strengthening properties.

Rhodiola rosea

Rhodiola rosea is used to increase physical endurance, productivity, longevity and immunity to common disease states.

Ashwagandha

Ashwagandha is also an adaptogen from classical Ayurveda, traditionally used as an aphrodisiac and as a natural tonic.